Leslie B. — Another success story
Click here to follow Leslie as she prepared for an April 2010 triathlon.
April 2009

I have been a dance teacher all my life, mainly dealing with children. When we moved to Pennsylvania two years ago, I decided I wanted to work with adults, teaching group exercise. It was a decision which was two fold — I needed some adult interaction and it would help me lose the extra 15 pounds I had somehow put on over the past few years.

Step One: I needed a goal.
My husband asked me at the beginning of this year if I'd like to do a triathlon with him. The one he had chosen was the South Beach Triathlon in April — how could I say no! I was ready to ramp up my training — and the beautiful sun and surf were something to look forward to!

Step Two: I would hire a personal trainer to help me with this endeavor.
I thought that if I had someone on top of my every move I would get into some intense training and get back on track. My husband and I met Linda at a talk that a previous client of hers gave and we were very impressed with their achievements.

What I thought I needed was completely wrong.

I have been working with Linda since March, and I can honestly say that I am just ready to start really training now — and looking forward to it! Linda helped me to understand if you can't get rid of all the "junk" we needlessly deal with and start to think of ourselves more as number one, none of the other goals you may have will materialize. I learned to feel happy with what I have accomplished thus far, because it is my time, my workouts and my life! Oh and by the way, the 15 pounds are gone.

I have completed the South Beach Sprint Triathlon and the Northeast Maryland Sprint Triathlon. As you can see from the skyline in the photo above, I also ran the Philadelphia Half Marathon this year.

My goal now is to complete a Half Iron Man Triathlon by the time I am 50 next year! I am sure with my new outlook on myself and being healthy, and Linda's inspirational support — I'll be crossing that finish line!

May 2009
September 2009
April 2010
Entry: December 21, 2009
December is an extremely busy time of year so I can always tell how dedicated someone is when they want to meet with me in this month.
When Leslie and I met on December 10th, her goal was to exercise for 10 days in a row. She wanted to get back in the habit of exercising to prepare for her Sprint Triathlon on April 11, 2010. Prior to the triathlon, another incentive to work out is a two-week sailing trip in the BVI.
We met on December 21st and she had exercised for 10 days in a row along with teaching multiple fitness classes and shoveling snow, which counts as exercise. She now had the right mindset so the next step was to tweak what she had already been doing. Below is her new set of goals:
Midsection - work it by doing daily core exercises and push-ups, incorporate the stability ball
Swim - increase to two times a week
Bike - keep at two times a week
Run - keep at three times a week but increase the duration
Choreographed weight lifting workout - keep at three times a week but do the third time with lighter weights
When we meet on January 4th, Leslie and I will go over the above list. And, I'll look at her food journal which will include Christmas and New Year's.


Entry: January 4, 2010
When Leslie and I met today, her Christmas decorations were still up. She has been too busy to take them down. It's difficult balancing work, training for a triathlon, teaching fitness classes, socializing over the holidays and all of the other things she's got going on. What excited me was how determined she was to work out daily and to keep her food journal (most of the days during the holidays).
It had been almost two weeks since we had seen each other and she accomplished everything on her list, see entry from December 21st. Leslie is living proof, though, that you can exercise daily and gain weight. It's not muscle weight. It's those darn Christmas cookies, pies, and all of the other goodies she doesn't normally eat during the year. Now that they are out of the house, she'll get back on track with eating less sweets.
Below is her new set of goals with several additions:
Midsection - work it by doing daily core exercises and push-ups
Swim - increase to four times a week
Bike - decrease to one time a week and keep it indoors, with our harsh winter weather
Run - keep at three times a week but increase the duration
Choreographed weight lifting workout - keep at three times a week but do the third time with lighter weights
Weight - lose five pounds, taking off a few pounds that she gained during the holidays
Workout time - get up early to work out
Zumbatonic - start promoting that she will be teaching this to children ages 4 -14 at the end of February at the Landenberg United Methodist Church
When we meet on January 18th, we'll go over this list and come up with a more aggressive plan. She has the frequency down so we'll focus on duration.

Entry: January 21, 2010
Leslie had lots to report and this was a very interesting session.
She was sick the previous week with bronchitis so she wasn't able to do anything but teach her fitness classes. I'm glad she listened to her body and didn't pushing herself. In the past, she would have. What impressed me is what she did with her downtime of not exercising.....she worked on her diet. When I say diet, I'm not talking about major restrictions or pills but diet meaning what she consumes. Leslie started cutting back on eating too many carbohydrates and drinking too many lattes and diet sodas. Her focus shifted to eating more vegetables and making healthier choices. For her week of no triathlon training Leslie said, "I felt good. At least I could accomplish something!" And, she did because what she consumes is fuel for her body.
Leslie was not a water drinking person. If she had to have it, forcing it down, it had to have lemon or something in it. Now, she's drinking 80+ ounces of water daily. Again, another very positive change in her diet.
It took Leslie a long time to understand my "take baby steps" concept. In order for a permanent lifestyle change to occur, baby steps need to be taken. If the change occurs too quickly, it is short lived and she will revert back to her old habits. Leslie has made major strides in this area, learning to move slowly to create permanent change.
We talked about others around us and how we sometimes need to detach from them. An example is if friends want to go for a latte and she's trying to cut back on drinking them, she can still go but she gets coffee.
The final area Leslie wants to work on is her weekends: exercise, food and drinks.
Months ago I asked her to pick three things and focus on them. Today she said she had "23 things but only two stood out, me and working on my Zumba business." Leslie understands the importance of focusing on her triathlon training and on her new business. She'll start teaching ZumbAtomic to kids Monday, March 1st. Her business phone number is 484-371-8343. The price for an 8-week 45-minute session is $60 for younger kids and $76 for teens, for a 60-minute session. And, there will be an 8-week summer camp.
We're going to keep the training as it is listed below. Coming off a week of bronchitis, Leslie knows she has to pace herself.
Something fun, Leslie's doing the Ironman Triathlon at our YMCA. She'll take three days to: swim 2.4 miles, bike 112 then run 26.2 miles. She said, "I'll be curious to see how I feel!" So will I.
"I swam a half mile like it was nothing. It's the new swimming technique." Such positive things are happening to Leslie.
We discussed her vacation, to keep working out and to make sure she incorporates stretching into her day. Leslie said this year she will be wearing a two-piece swim suit!
She's going to sign up for the Broad Street Run which is held in May.
Leslie said, "I don't have to be Super Woman!" This really sums up what we've worked on all these months. The woman that stands before me today has a much different way of thinking. She is doing an outstanding job and I couldn't ask for anything more from her.

Entry: February 4, 2010
Leslie and I were to meet today but she had to get a test done before going away. There was no time to reschedule our appointment so we talked on the phone.
Leslie said, "Yes to every question except a 10-minute mile. I'm not meant to run them. I'm running a 12-minute mile on the treadmill, five or six miles, like it's nothing. Swimming, 40 laps like it was nothing!"
She will be wearing her two-piece bathing suit while sailing in the British Virgin Islands. Ah, it sounds so nice because they're forecasting six to twelve inches of snow starting Friday evening. (We ended up getting two feet of snow!)
Leslie has a plan and I'm confident she'll stick to it as best she can. Vacations are a time to try and eat unique things. She can swim in beautiful waters, snorkel, run different places, and do workouts on the deck of the boat. She can eat exotic foods and hopefully lots of fresh seafood.
Our next session will be Monday, March 1st. I will be asking to see pictures of her sailing trip!

Entry: Thursday, March 3, 2010
Leslie said she did really well on vacation, two weeks on a sail boat cruising around the BVI. The first week she rallied the troops and had them running, along with doing exercises. The second week, she kind of kicked back and relaxed. She had no junk food and, I got to see a picture of her in a two-piece bathing suit....nice body!
"It's all about taking baby steps. When I came home from vacation, I realized I couldn't do everything that needed to be done that week. So, I started out slow." Leslie had the right mentality and, eventually, everything got done.
We talked about the April 11th triathlon and she said, "Five weeks Sunday. Last year I was a mess and now I'm fine. It was the fear of the unknown."
Leslie said, "I really don't think I want to be a fast runner." A previous goal was a 10-minute mile but that is the beauty of goals, they change.
She and her husband are doing an Olympic Triathlon in August and a Half Iron Man in October. For the Half Iron Man Leslie said, "I don't think I'll have a problem with it. I can swim and the important part is it doesn't scare me anymore. And, I'm running now." What fascinates me about these statements is Leslie talked earlier about the fear of the unknown causing her to be a mess. Well, she's never done a Half Iron Man so shouldn't she be a mess? The answer is no. Leslie is getting stronger both physically and mentally. This strength equates to confidence and this confidence did not happen by accident. It came from planning — figuring out what she wanted to do.
"I'm doing good. I feel good. Once you get it, you get it. You can't do it all at first. Baby steps. Prioritize — that's what I learned."
Leslie is inspiring!
We're scheduled to meet on the 25th so check back.

Entry: Thursday, April 8, 2010
Leslie and I last met on March 4th so we had lots to talk about.
I handed her pictures from that visit and she said, "I don't even want to see them. They're bad!" But, they weren't. She's 15 pounds lighter than she was a year ago, which is a big difference.
She hadn't worked out in weeks then showed me why, "Poison Ivy. It was all over my body." Somehow Leslie taught her fitness classes (I can't imagine how) but that was it, no training for her triathlon, which was fast approaching. Add to this a bout with allergies that is settling in her chest. She has been sick.
"Monday I swam for the first time in weeks and swam a half mile. I'm not worried about any of it, the swim, bike or run. That is a big turn around from last year. What's the worst thing that could happen — I have to stop the race? I'm more ready than last year. Actually, I'm not worried about finishing; I know I will finish," Leslie said with confidence.
She is now Aqua Zumba and Cycle certified and started teaching classes for both of these.
We talked about her Half Iron Man Triathlon this fall and Leslie is doing it even if others around her can't. She is focused and knows what she wants to do.

Her Club Salsa is going well and she talked about raising awareness for it. I threw out the idea of doing a Half Iron Man Triathlon for it or even a 5K or 10K race. "What an awesome idea!" she said. I volunteered to help and know we can get others to support her cause.
"I'm so different than last year. I haven't gotten mad when people say things." Leslie is referring to trying to please people then getting hurt or mad by what they say. She is now becoming her own person and I love her new attitude.
She is still looking for the right combinations of food that agree with her and give her energy. She likes bananas and peanut butter along with apples and peanut butter. Part of this is experimenting with her system to see what works best for her.
Leslie finally opened the packet of pictures and commented that she looked better in September. It was true because she had on a tighter shirt then. These March pictures didn't show her upper body because of a loose fitting shirt. We'll retake the pictures the next time we meet.
It looks like Leslie's Zumba class for the kids, held at the church, will be June 5th. It will be a kickoff event so it will be open to the public. More details to follow.
Leslie's 50th birthday is next month and you'd never guess it. She looks great! I said I want her to do triathlons when she's in her 70s and said she could use a three-wheeled bike. "Side car!" she laughed.
We'll meet again on April 29th so check back to see how Leslie does in her triathlon.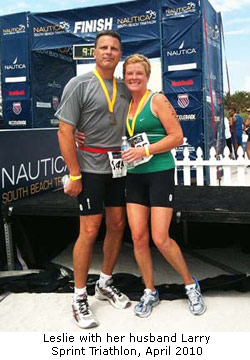 Entry: Thursday, April 29, 2010
Leslie and I met today and I got to hear all about her triathlon. A harsh reality was when they put her age on her body parts, like they do at each race. They wrote 50 and she doesn't turn 50 till May 11th. She said, "I felt fine through the whole race and not like last year when I felt dehydrated. My goal this year was to not stop and I didn't. The weather conditions were horrible and totally different this year — a head wind and cloudy made everything harder. I know I could have had even better times if the conditions were sunny and calm like last year." But, she improved in almost every area of the triathlon:
The swim was 25:26 and last year it was 30:07.
Transition 1 was 3:06 and last year it was 5:56.
The bike was 1:32 and last year it was 1:27. "The bike is the only thing I didn't practice," Leslie said.
Transition 2 was 2:38 and last year it was 1:23.
The run was 41:59 and last year it was 45:28.
When Leslie and her husband finished the race, they spent four days in Key West. "I ate French fries because I wanted to. That's something I've learned in the last year."
"I have a new goal. I want to beat the woman that won in my age group. Her swim was 16:35, her bike was 57:59 and her run was 28:09. I could train so much better and I will. Next year I want to be first in my age group."
We went through her overall goals from last year and she had accomplished almost every one of them. With better training, she will achieve those goals. Leslie said, "I can be so much better because the past year was not enough, it was a start. Looking back, I know I feel good about what I've accomplished — because the most important part is that it's not all about the working out. I think it is important for people to understand that there are so many other parts of feeling great!"
Recently, she was in the hot tub with her husband, wearing a bathing suit from last year. It was so baggy that he suggested she throw it out.
"I've got a lot to enjoy here at my house and I'm not enjoying it. I want to play golf and I don't have time. I'm going to change that."
The other day someone asked her to teach a fitness class and she said no. "The old Leslie would have said yes. Now, it's okay to say no."
Leslie has done an outstanding job not only with this triathlon but in the past year that we've worked together. Many more good things are coming her way — I'm sure of that!